This Roasted Butternut Squash Soup is so incredibly delicious, and very healthy! It is perfect for this cold weather. My sister Elisa told me how great it is, and that it was found in my Blendtech recipe book. I made it last month and made a few changes along the way for my mom who had to have surgery – removing the gall bladder and fixing a hyatle hernia left her only being able to have liquids for about 3 weeks, so this was perfect for her (minus the nuts :). With some illness and Thanksgiving, I was unable to get it up on the blog. However, my family loved it so much that I have made it every week since! It makes a big pot and stays good for several days. We have had it for lunch for a good five days! I love meals like that!  Not to mention it is perfect for those who have a lactose issue or for friends who are vegan/vegetarian.
I add a few dollops of sour cream and nuts.
We have had it with walnuts, pecans, pumpkin seeds, and even slivered almonds as a garnish, I gotta have some crunch with my lunch! My favorites are pecans and pumpkin seeds 🙂
Of course we love eating it with bread, a fresh baguette is our favorite 😉
If you want a meal that is super healthy and lasts several days in the fridge, then this one is for you. I hope you love it as much as our family does!!
See the Happy!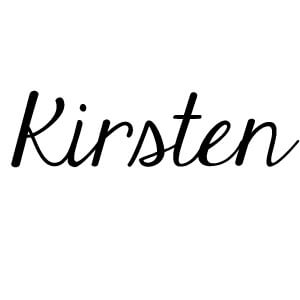 Preheat the oven to 400*. Slice the butternut squash in half, remove the seeds. Brush with olive oil. Place each piece in a pan that has about 1/2 c of water in it so it won't dry out. Pierce the skin with a fork ( I do about 3 across and 4 up and down). Bake until it is tender, about 45-60 minutes depending on the size of your squash.

While the squash is baking, slice and dice all the veggies. Add 1 tbs of oil to large frying pan along with the garlic, saute all the veggies/apple for about 6 minutes until the onions become translucent.

Add one cup of water to your Blendtech or preferred blender and half of the veggie mixture. Pour into large stock pot. Do the same with the other half of the veggie mixture and 1 cup of water. Add to the pot.

Add two cans of the chicken broth to the mixture in the pot and allow it to start simmering on low heat stirring occasionally.

Once the squash has baked, remove from oven. You can scoop the flesh out or I will peel the skin off with a knife. With one side of the squash in the Blendtech add one can of the broth and blend. Add this to the stockpot. Do the same with the other side of the squash and the last can of the broth. Add to stockpot. Allow to simmer for about 10 minutes before eating.

You can add a bit of sour cream, cream, or any kind of nut as a garnish. We love pecans, walnuts, or pumpkin seeds. Add some bread to dip. Enjoy!