Back to School
I think every child, no matter how old, has some anxiety about going back to school each year.  There is always a little bit of unknown and that's what gets those butterflies going in their tummy.  Each year I have at least one child who struggles on the first few days and even randomly in the middle of the year. I have had a few years where I have to take one kicking and screaming and it makes me so sad.  I think I'm more nervous than my kids are sometimes.  Do you ever get those nightmares where you're at school and you can't remember what your next class is or what your locker number is? I do…STILL.
Your off to great places today is your day! Your mountain is waiting so get on your way.-Dr.Suess
My first was always so brave. He was nervous for school and a little excited, he would go just fine, putting on that brave face, not crying at all. But then I would get a call from the teacher later in the day telling me he's feeling sick.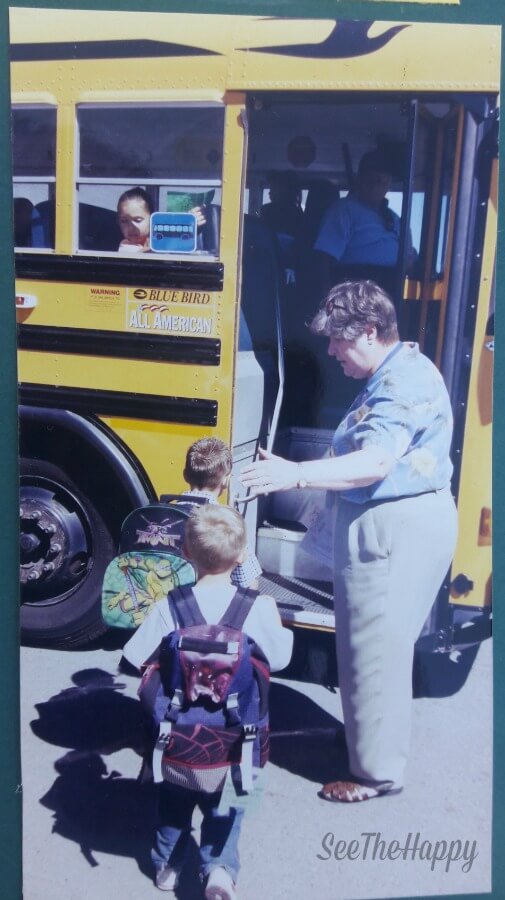 One time they called and said, "he's looking a little green". So I picked him up and brought him home for some cuddles and to talk about how he was feeling.  This particular time when I asked him how he's feeling sick (wondering if it's a tummy ache, head ache, is he going to throw up…) he said, "I think I'm home sick." That gave me a little chuckle and made my heart swell.  The next day he went back just fine. There was just something about that first day for him.
Then my daughter came along and she didn't look back. She could care less what was going on at home. I never had a problem with her going to school until middle school. That hate for school hasn't gone away but she always goes like a trooper.  I'm praying now that we've moved her to a different school, a few things will change and her Jr. year will be amazing.
The expert in anything was once a beginner- Helen Heyes

Then 3 more boys came along and gave me a run for my money.  Each of my last three would complain about how they would miss us, or would just act so terrified and didn't want to go.  It would make me so sad for them but also get a little frustrating. Once they went to class they were fine the rest of the day, it was just getting them there. I can't tell you how many times I sat in my car with a child, well after the bell rang, trying to coax them into the school, knowing they would be just fine once they were in class.  I was always so grateful when Dr. Prasad (the school psychologist) would be out directing traffic. I could just open my van door and he knew to help my child out and into the school.  He sure was a blessing for a few years when my son refused to go to school on a daily basis.
Don't be afraid of change because it's leading you to a new beginning.- Joyce Meyers

One year I was at my wits end. I had done what I could to help Will feel comfortable going to school and I had already been through this with his older brother. Will hadn't had problems in kindergarten and his first day of first grade went fine. But day two he cried his eyes out and clung to me like I was sending him to the slaughter house. After days of this I had no more patience when, yet again, he announced he wasn't going to school.
Education is the key to unlocking the world, a passport to freedom.- Operah Winfrey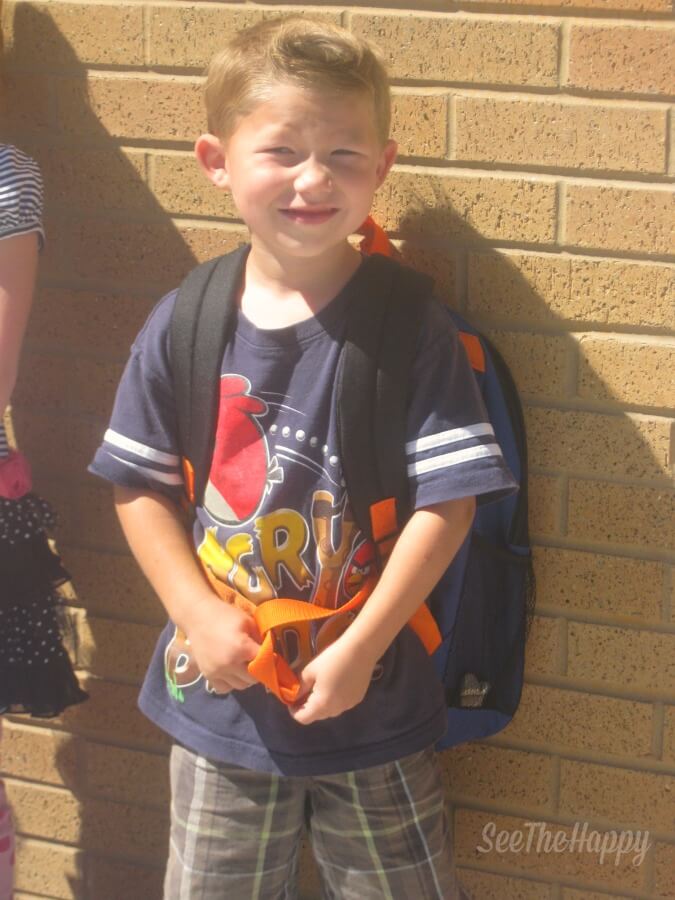 Grateful that my hubby was working from home that day, I sent Will down to talk to dad.  My hubby saved me that day. He patiently listen and talked to my son, and having been a child that did the same thing when he was young (his mom would pay him a nickel each day if he would go to school without crying) they came up with a solution.  The problem was that he would miss us when he's gone at school (I think he was a little overwhelmed with the French immersion program as well, but we won't go into that).  To help Will remember our love and that we would be here when he gets home, my hubby let Will wear his compass necklace (brought home from one of the youth camps that summer).
It Worked!! Will hung onto that necklace until his anxiety went away. And now, when our children are anxious about going to school, sometimes middle of the year, we let them take something of ours to help them feel close to us.
The difference between try and triumph is a little UMPH.- Marvin Phillips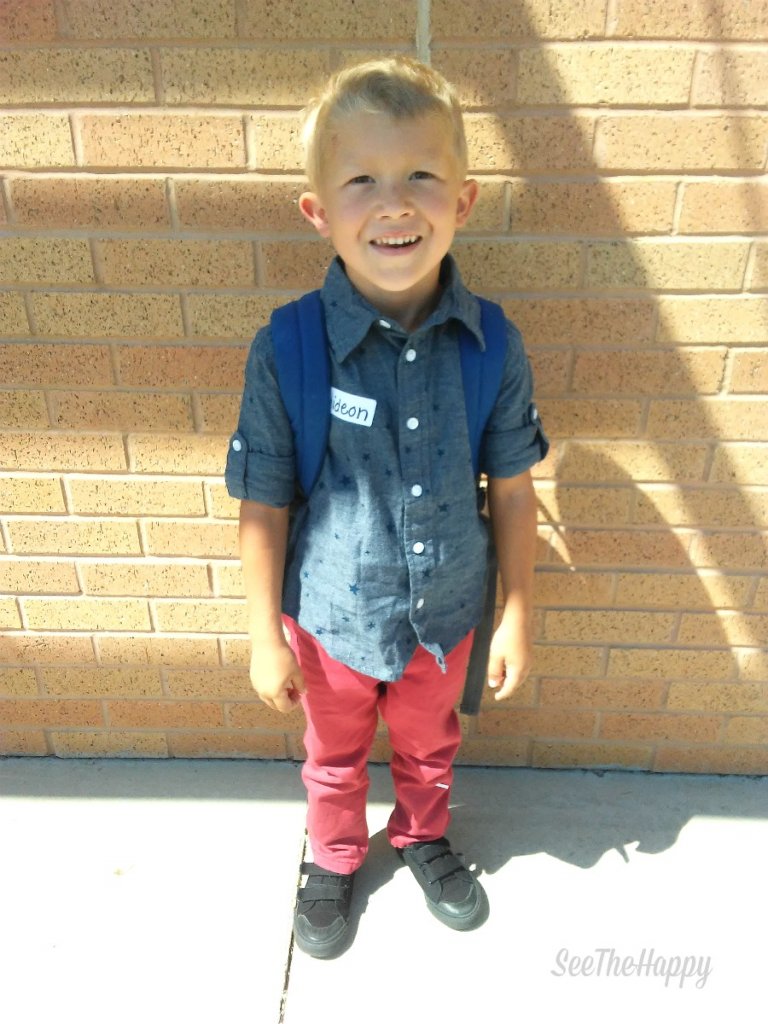 It has been anything from a ring or necklace to wear, to something like a special coin to put in their pocket.
This year we are going to be well prepared and make something with each of the kids, that want one, to have for their first day and always.  This month the Inspire My Creativity theme is back-to-school so in hopes that this idea will help others, I'll show you how to make matching bracelets to wear or a coin to put in their pockets. You can even make and give these to grandchildren who are heading off to their first day of school.
What you'll need:
Bracelets-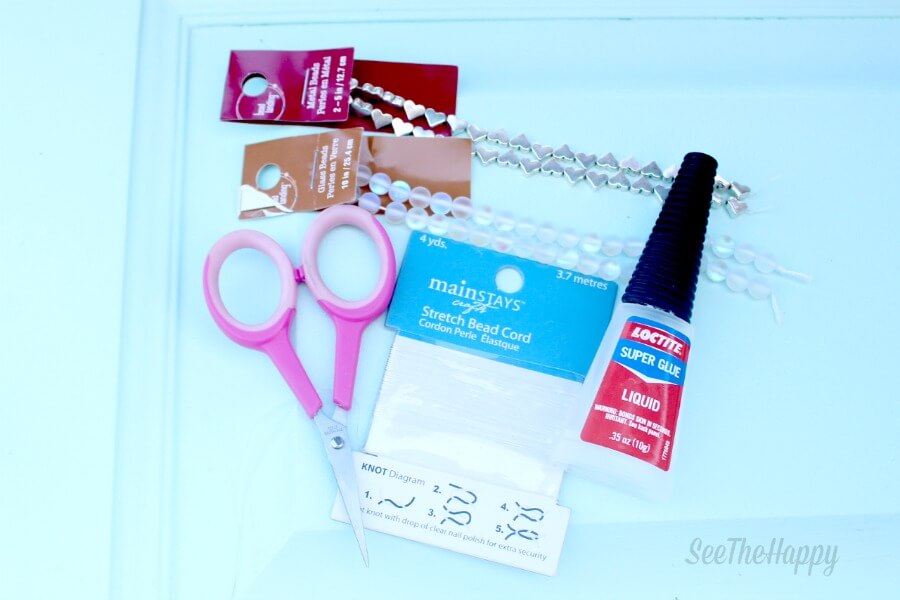 Beads of your choice- these are 6mm beads from Micheals
 .8mm stretch bead cord
super glue
scissors
Coin-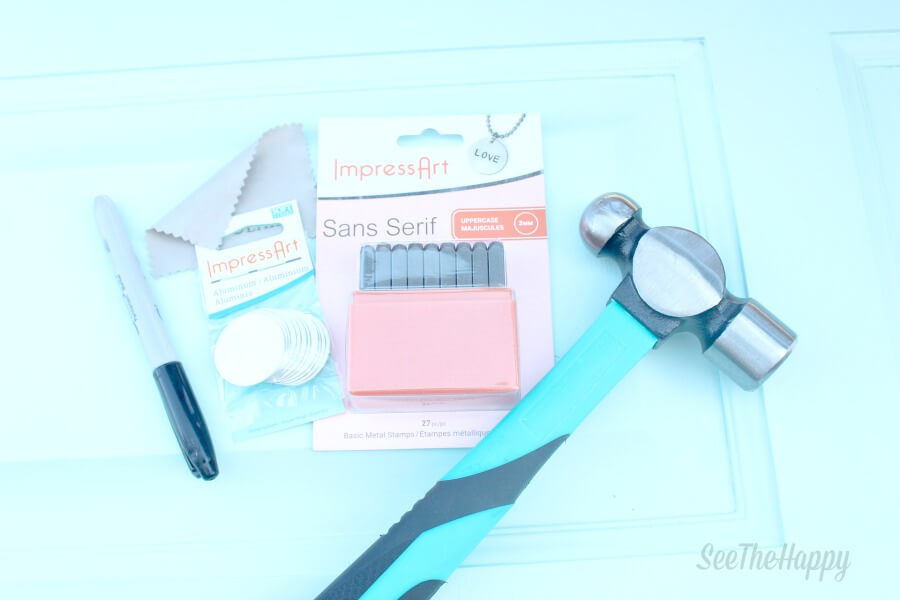 Metal stamps- I'm using 3mm San Serif uppercase (don't forget to use a coupon)
1 1/4″ Aluminum Stamping blank disc
Hammer
 Black sharpie marker or stamp enamel marker. A fine point sharpie worked best for us.
polishing cloth
(optional) steel stamping block – this is a good idea if you don't have a similar space to stamp on
Bracelets: Step 1
Measure out how much stretch cord you need for your bracelet.  Hold the cord around her wrist, decide how tight you want it. Give yourself an extra inch on both ends and cut.  If you want to make matching bracelets, one for you and one for her, do this again for yourself.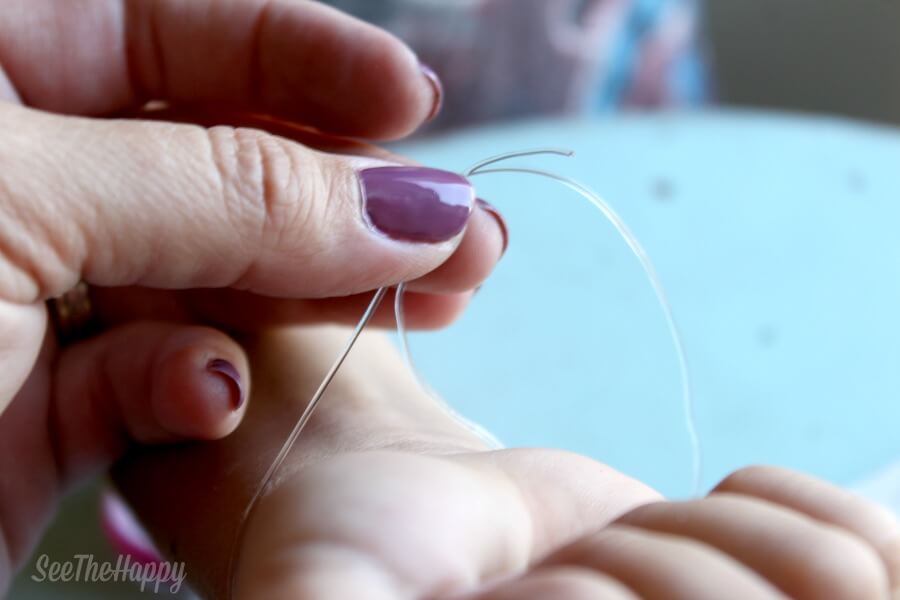 Step 2
String the beads on as you like, leaving the 1″ sections at the end.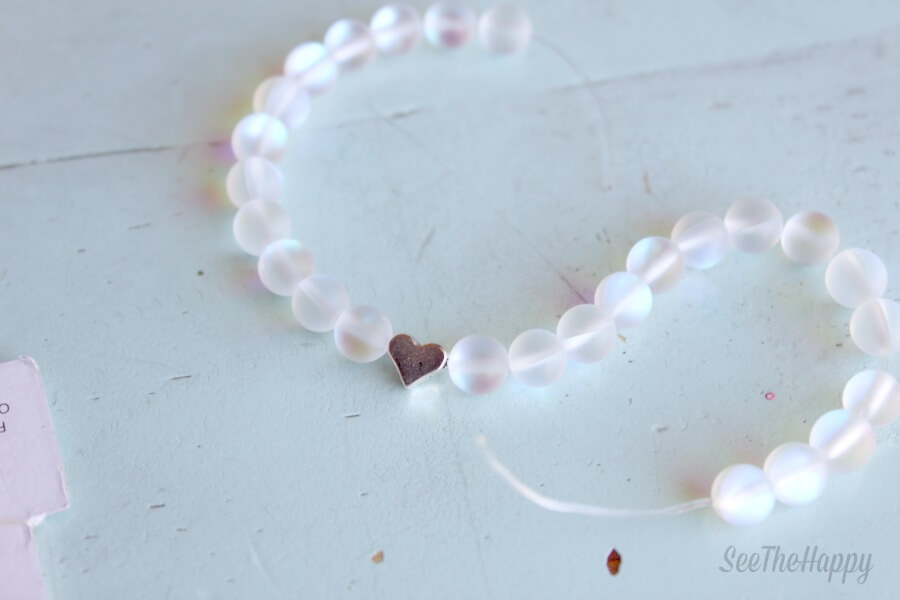 Hold it up around your wrist to be sure it's as big as you'd like.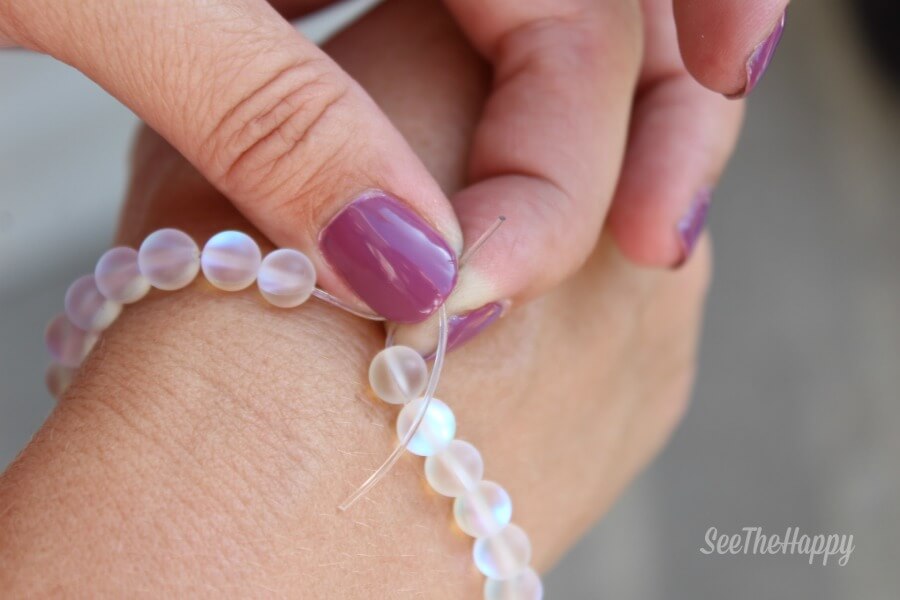 Step 3
Tie your ends into a square knot.  Be sure it's secure before moving on.
Step 4
Add a tiny drop of super glue to your knot. Blow it dry. Snip your ends and, if your beed will allow,  slide the knot inside a bead to hide.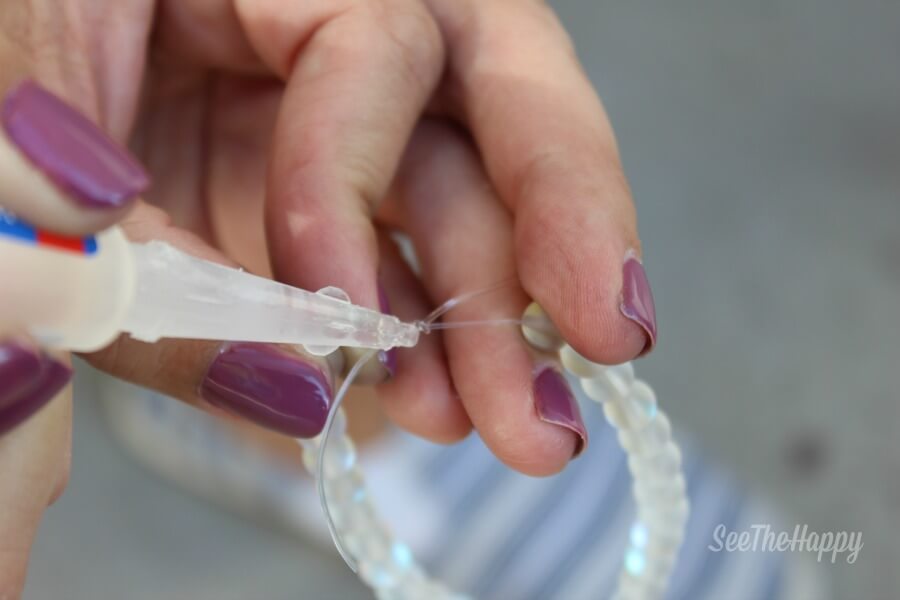 DONE!! I hope this helps your child feel a little better on their first day and even throughout the school year when they just miss home.
Here is a little poem I wrote from the experiences we've had  over the years. If you'd like you can put it with the bracelet when you give it to your child.
Coin: Step 1
Have your child choose a word or two that means something to him/her, a word that will give them strength when they feel nervous. Gid chose STRONG and LOVE to remember he is strong and can make it through and love to remind him how much we love him. Will chose BE SHWAY, you'll know what this means if you watch The Flash. Will says he likes to show the things he keeps in his pocket to his friends, it helps him feel happy.
Place the disc on your steel block or find a good solid surface to stamp on. I'll tell you that I didn't want to spend the extra $12 on the steel stamping block, thinking that my hubby had to have something we could use. I couldn't find anything in the garage except the surface of the table saw, which worked perfectly.  Trust me, wood and cement won't work as a good solid surface. I'm thinking I may invest in the steel block if I decide to do more stamping projects.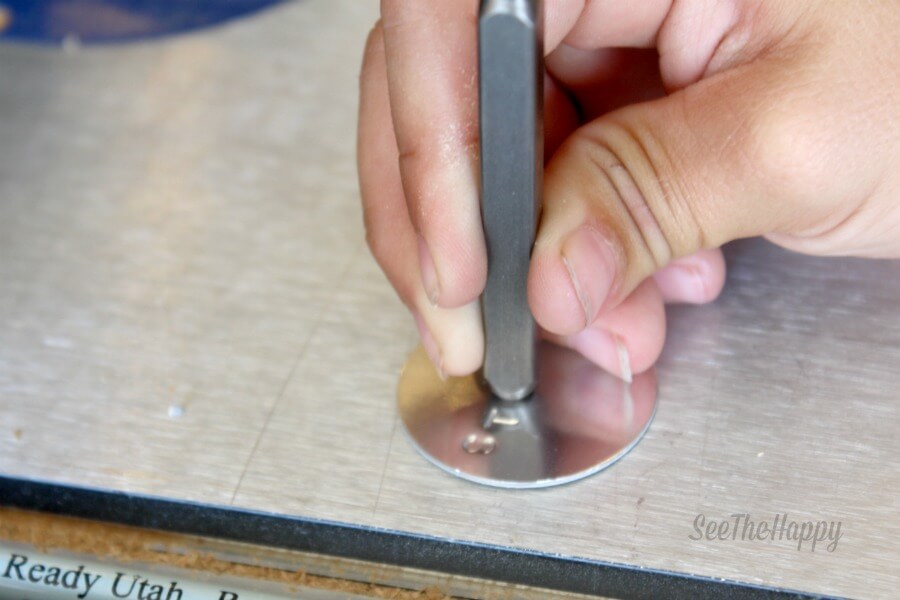 Carefully place and stamp each letter on the disc where you'd like.  When the letter is flush with the disc give the metal stamp a good hard single tap. Double tapping can cause double impressions.
Step 2
Using a black sharpie or enamel marker, trace over each letter then quickly wipe off before the ink dries.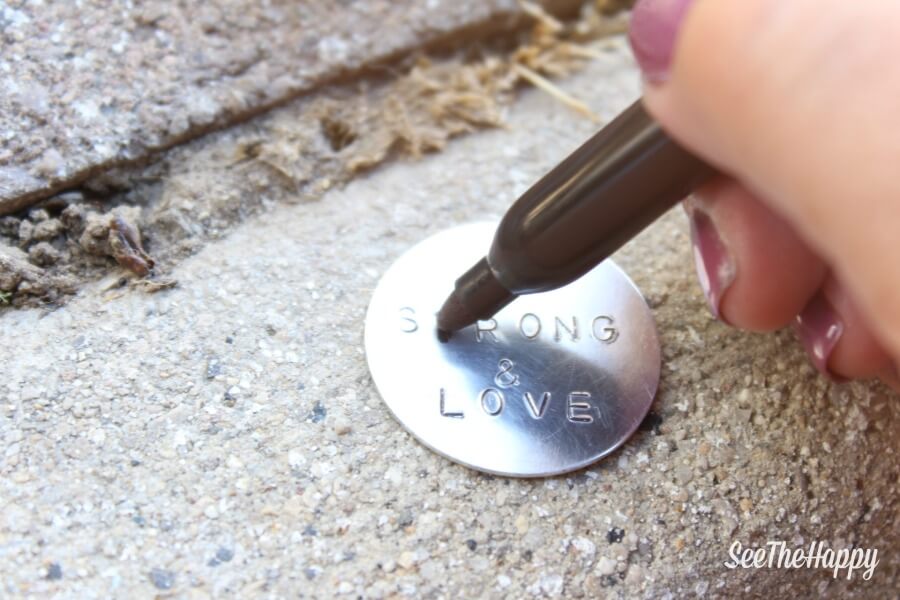 We found that a fine point is even easier, with less excess to rub off.The purpose of this is to get it in the crevice of the letter, helping it to stand out more. If you like the look without the marker then skip this step. I suggest doing one letter at a time, ours dried pretty quick.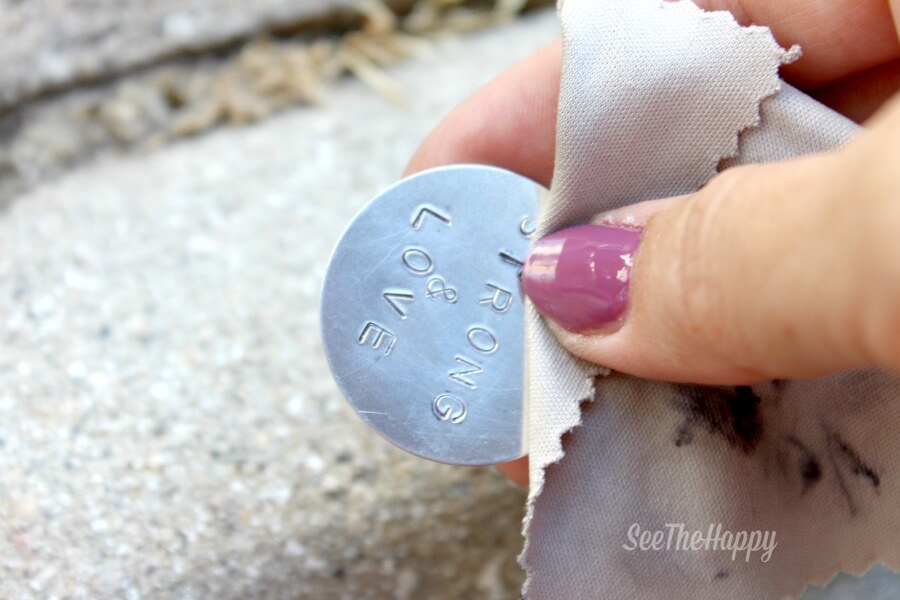 I hope having this coin in their pocket, will help your child have the courage and reminder of your love to go to school each day without any tears.  Here is the poem switched up for the coin. GOOD LUCK!!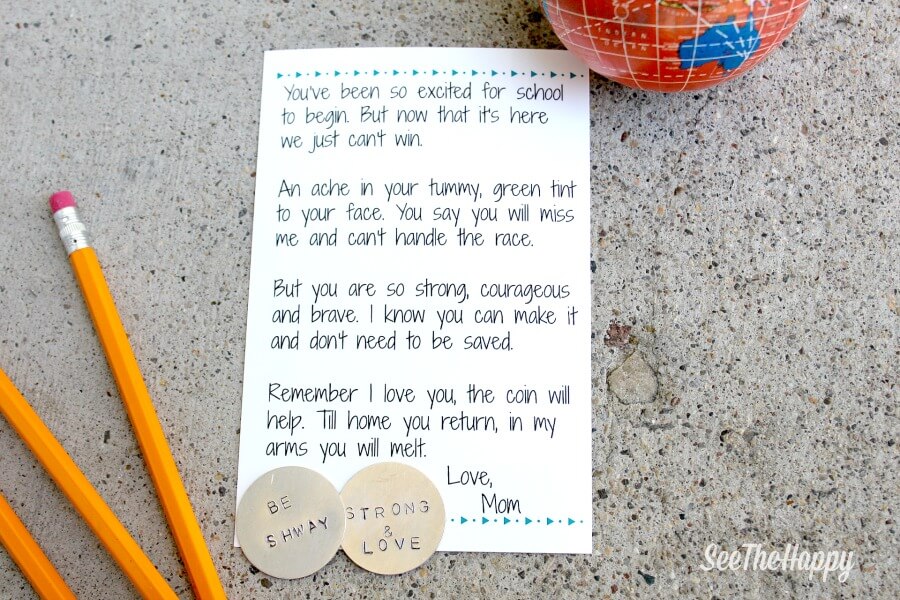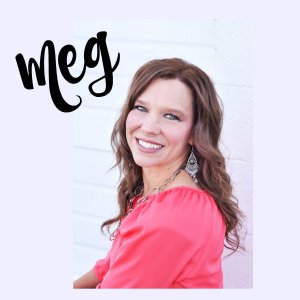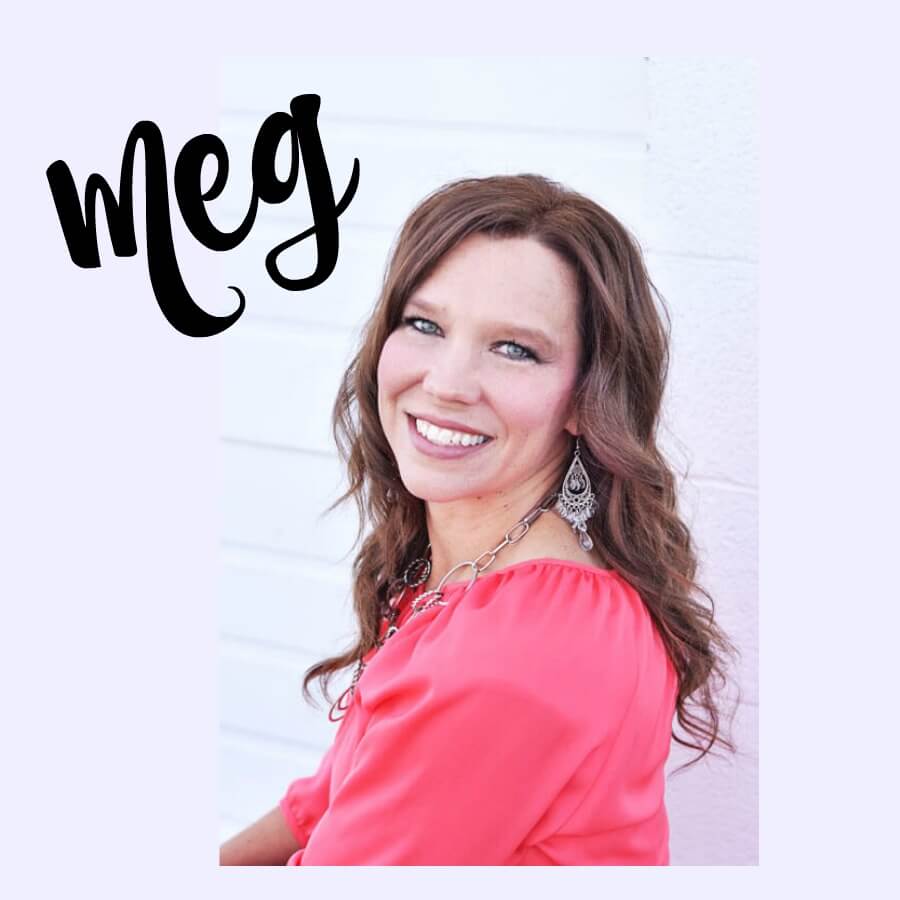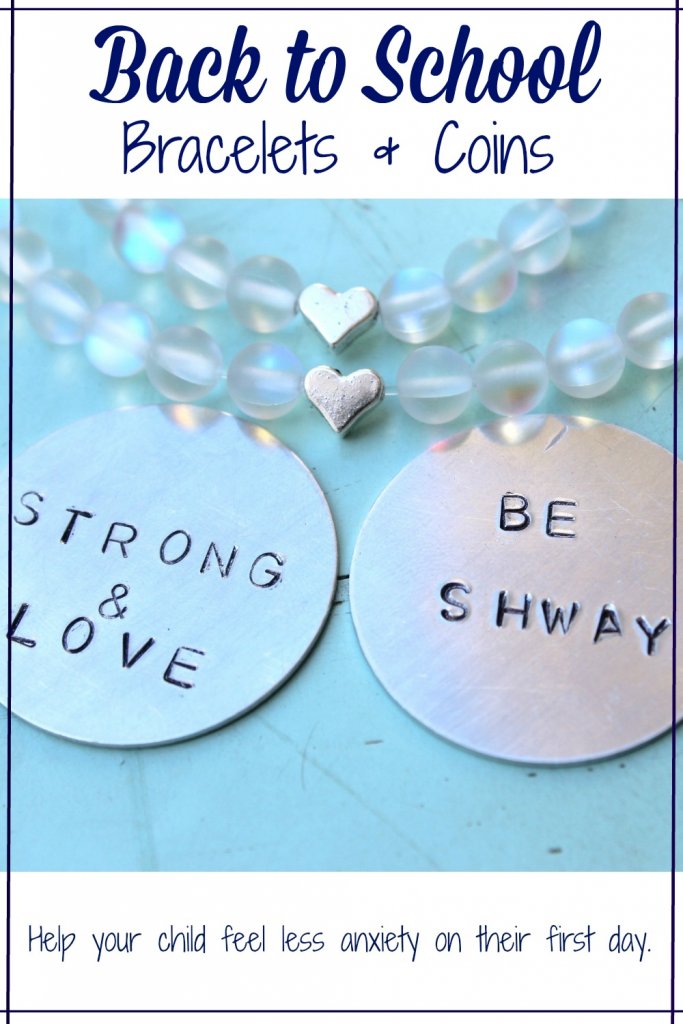 For more back to school ideas, see what these other bloggers have come up with. Join us next month for the theme Use Up Your Stash.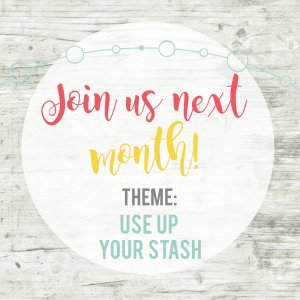 You are invited to the Inlinkz link party!