Sweet Pork for me is so incredibly delicious, unfortunately my husband does not share the same feeling with me. When he was little his grandparents took him to a slaughter house and that experience has left him disliking most meats, pork being one of them. I have to say though he will eat CERTAIN kinds of meat – aside from chicken which he has no problems with, he will eat hamburgers and carne asada, and I guess it is because, well, both of those things are just plain delicious! 🙂 SO when I make pork I have to do a little extra to it in hopes that when he takes the first bite he will come back for more.
I had made a pork roast in the crock pot – super simple: salt, minced garlic, and onions rubbed into the pork. Cooked it low and slow and it was super moist and flavorful. If you want to see how I keep my meat moist you can check it out HERE . Even though I had this moist and yummy pork,  I knew I needed to change it up if the husband was going to eat dinner that night. I remembered a friend telling me she added passion fruit juice to her pork when she made Fritada to give it a sweet kick.
So instead of adding some oil to fry the pork up, I added apple juice. Frying one side for 4-5 minutes over med-high heat made this a slightly sweet, moist yet crunchy meat- pretty much like carnitas. The meat has some golden brown crunchy bits that make it so delicious!! I have seen people bake or broil the pork, but I am telling you frying the shredded pork is the only way you will get this yummy flavor!
I wish I would have gotten a close up of the meat, I will for sure get one the next time I prepare it 😉
We LOVE Tortilla Land tortillas. I am not being paid to say this – they are a staple in our home and will make your burritos taste so much better! I have seen them at pretty much any grocery store, but because we eat them so much I buy them at Costco.
Add in some of your favorite toppings – pico de gallo, cheese, shredded lettuce, olives, sour cream, really whatever you love on a burrito. I also love to add SALSA VERDE, which make these babies complete. Salsa Verde is so simple and can be done in just about 10 minutes!
There you have it! A delicious meal that is loved all around, and can be frozen and eaten later. Just heat the meat on the stove, adding a bit of apple juice when you cook it up!
See the Happy!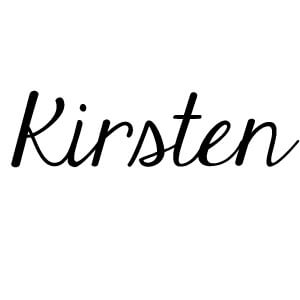 Prep the pork by rubbing the salt and pepper into meat thoroughly. I then add the oil and the minced garlic. and give them a good rub. Place the meat with the fat side up in your crock pot. Sprinkle your sliced onion all over the top and around the sides. Pour 1/2 c water to bottom. Set it to cook on low for 8-10 hours depending on what your crock pot is like.

Once the meat is nice and cooked, remove it from the juices and let it rest for 20 minutes. This helps the meat to stay nice and moist!

During the 20 minute meat rest, prep the salsa verde, shred your lettuce, chop up your pico de gallo, olives, cheese, whatever you like on your burritos.

After the 20 minutes, begin to shred the pork. Prep a large frying pan, adding about 3 c meat to the pan. Drizzle 1/2 cup of apple juice over the meat and fry on med-high 4-5 minutes until the bottom is browning. Keep the other side moist without frying. This helps things be a little brown and crunchy, but also nice and moist. Delicious! Repeat process if you need more meat for your family.

Heat your flour tortillas and prep your burritos with all the toppings you like, don't forget to add the Salsa Verde. Enjoy!