This Kona Island Banana Bread has such great memories attached to it for me. When I was young, I remember helping my Mormor (grandmother) make some delicious banana bread for a get together she was having the following day with some friends. Her banana bread was always so delicious, and I loved it when she added nuts. Now I have another reason to love it – my best friend of over 30 years little guy always asks if we can make banana bread together whenever I babysit for their mom. It is one of the first things he asks me when he walks through the door. I made some with him once, let him pour all the ingredients in and give it a mix, scoop the batter into the muffin tins, and then of course eat them up! I know he loves the process, me allowing him to truly be part of it, AND he also knows that he will get to take some home with him when his mom comes to pick him up 😉 Kids love having all your attention and feeling like they are a part of a process. Baking is such a great way for them to do that. Yes, it takes a little longer, and yes, it is a bit more messy, but so worth it when they want to do it over and over again!
The riper your bananas, the sweeter your bread will be!
I love this recipe because I usually always have all the ingredients on hand. I used to use margarine when I was first married because it was so much cheaper, but I prefer using butter for all my baking now, and I just make sure I find it on sale 😉
I don't have a mixer so I just do it all by hand. Cream the butter and sugar, add the mashed bananas and eggs, then the dry ingredients and you are good to go!
I like to use my one inch cookie scooper to scoop the batter into the muffin tins. I fill them about 3/4 of the way full.
I love the regular size muffins, but the Texas sized muffins are my favorite! Let's face the truth – the top is the best part, so a Texas sized muffin is the way to go! Just bake them until they are golden- I use a toothpick to test them and make sure they are all the way done. 
Without nuts are good….
But we all love nuts at our house, so that is our favorite way to devour them!

I love mine with a nice spread of butter on them as well!
Did I mention that these freeze really well? My Mormor always made bread, but I wanted to limit my devouring sessions so I made the recipe into muffins, that way I can have one every day if I want to. Just pull one out of the freezer about 30 minutes before you want to enjoy!
What do you think? With nuts or without? I would love to hear what you think when you make them 🙂
See the Happy!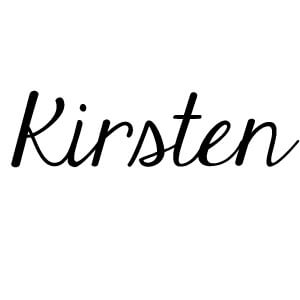 Cream the butter and sugar together. Add the mashed bananas and eggs and mix well. Add the dry ingredients and blend into the creamed mixture. Do not over mix.

Using a cookie or ice cream scooper, scoop the batter into paper lined muffin tins 3/4 way full. Sprinkle some of the chopped nuts over the top if desired.

You will need to watch the first batch as all ovens bake differently. I always use a toothpick to check to see if the center is done. Regular size muffin tin bake for 13-15 minutes or until golden. Large muffin tin bake for 16-19 minutes until golden. Remove from pan and allow to cool for 10-15 minutes. These muffins freeze really well, I have kept them in the freezer up to a month. I will just pull one out each morning and allow it to defrost for 30 minutes or so. Enjoy!

*** If you prefer bread you can do that as well. Pour the batter into 2 greased bread pans about 2/3 way full. Bake at 350* for 45-50 minutes or until a toothpick comes out clean.