*This Waffle Bar Baby Shower post contains affiliate links, which means if you click on a link and make any purchase, I will receive a small commission at no additional cost to you.  Thanks for your support!**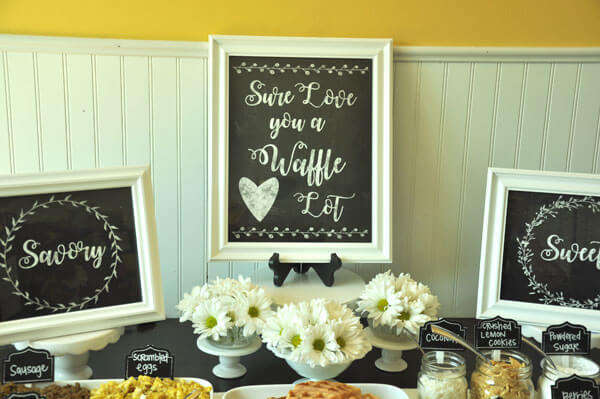 Earlier this year my sister was pregnant with her 2nd daughter. She called me and said "I know it's not really customary to have a baby shower for your second daughter, but I feel that every baby should be celebrated", and I totally agree! Our sister in-law Lisa was also having her second boy a few weeks before, so it worked out perfectly!  We were able to do a double shower to celebrate these sweet babies! I knew immediately what kind of shower I wanted to throw – a Waffle Bar Baby Shower! This was so much fun to put together, and turned out beautiful! All the women in my family are awesome at coming together and making a collaborative effort of love!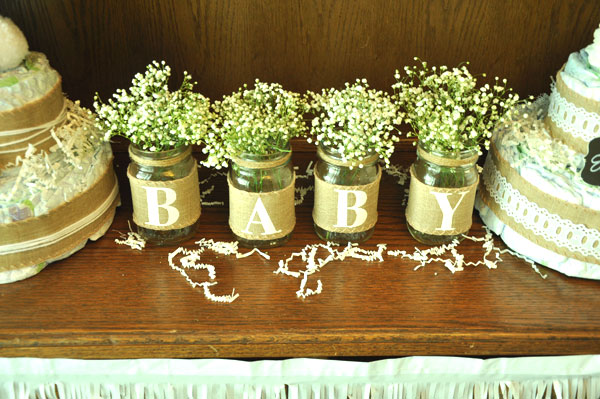 DECOR
My sister Meg was put in charge of the decor – that is one of her specialities – and I just LOVE how it all turned out! We decided on black and white with burlap for colors.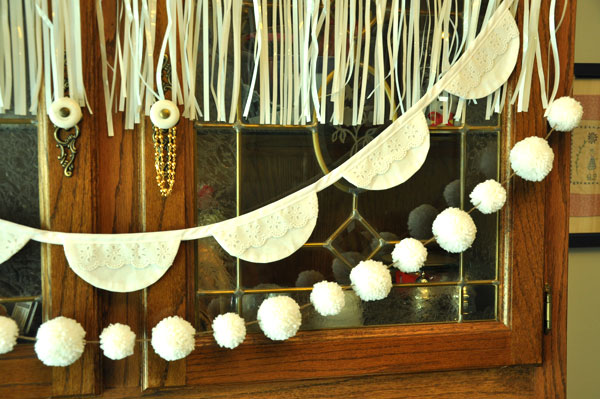 Different buntings and banners with different textures made this all come together!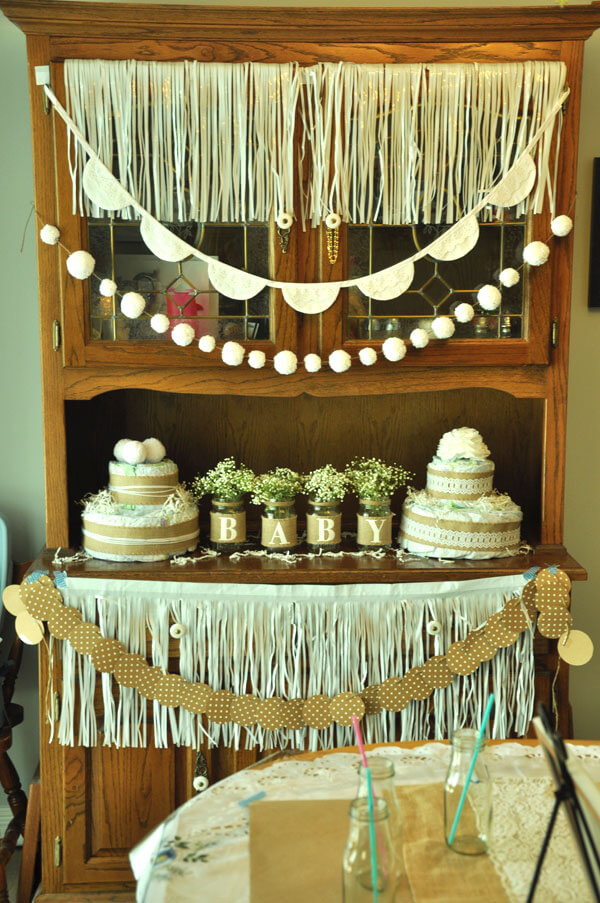 Meg decorated a hutch as the focal point at my mom's house.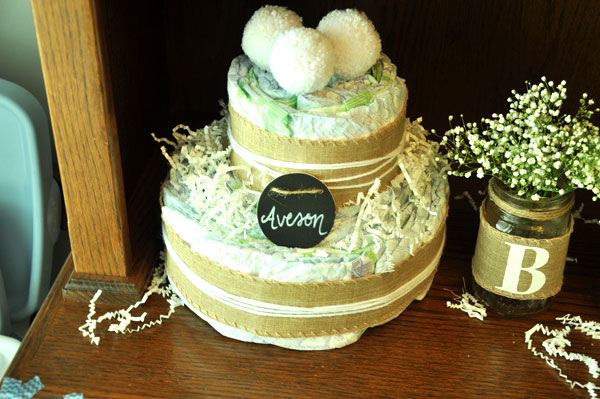 Aren't these diaper cakes adorable? I think that added so much to the decor and are useful – win-win in my book!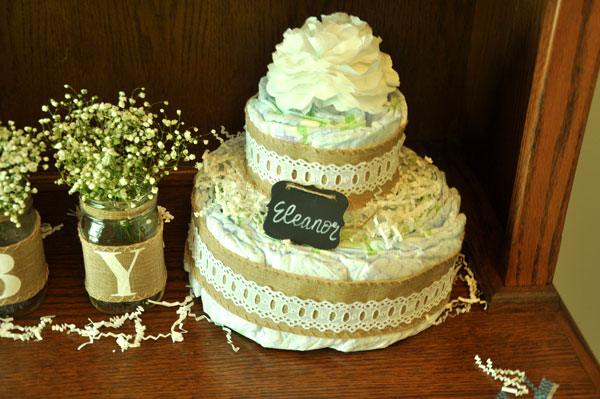 Meg made each "cake" more masculine and feminine for each baby! Loved this!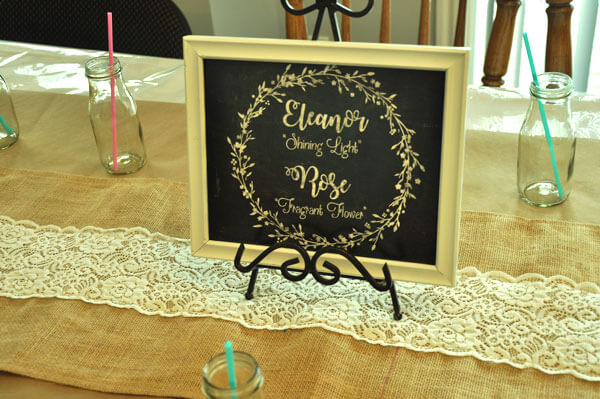 We had white table cloths with brown paper, the burlap, and lace – so simple, yet so beautiful!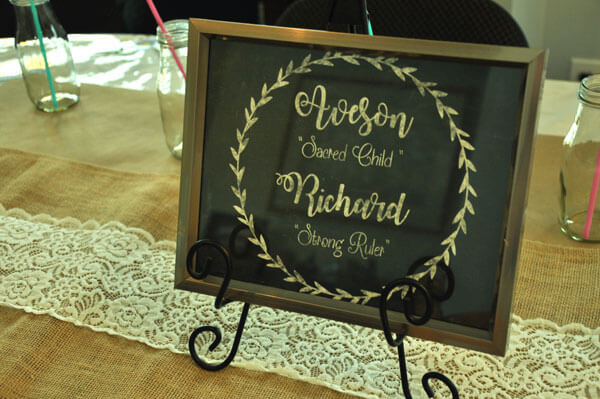 As part of the decor and a gift as well, I made each of the sweet babes a framed chalk art of their names and what they mean. I have always loved learning what people's names mean, sweet to have it in their scrapbooks or their bedrooms.
THE WAFFLE BAR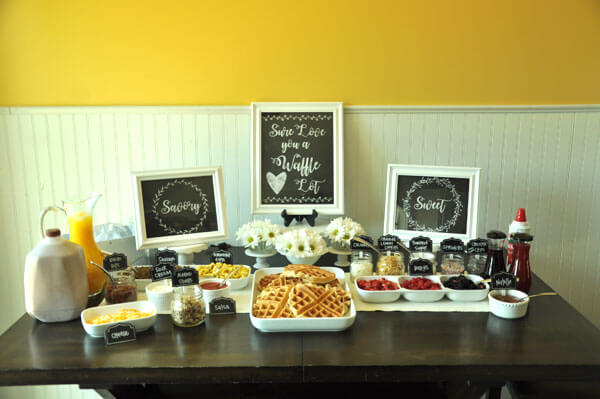 The waffle bar set up was fun to plan out and make a reality.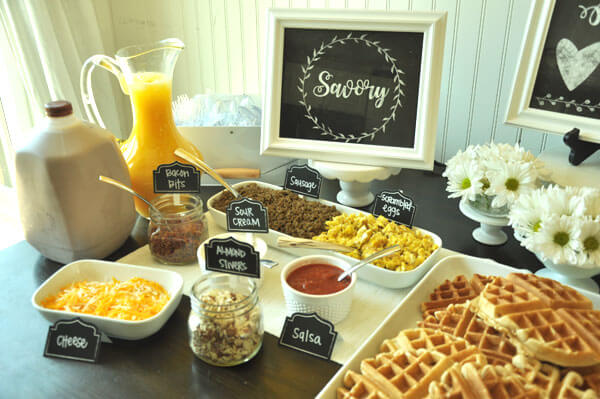 I knew I wanted our waffle bar to have both a savory option…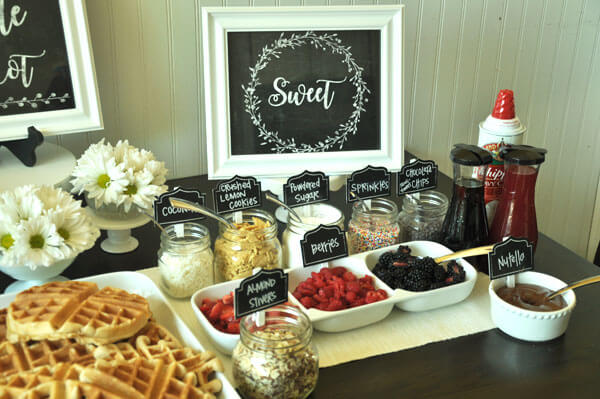 and a sweet option so that people could prepare their waffles to whatever suits their fancy – sweet, savory, or both!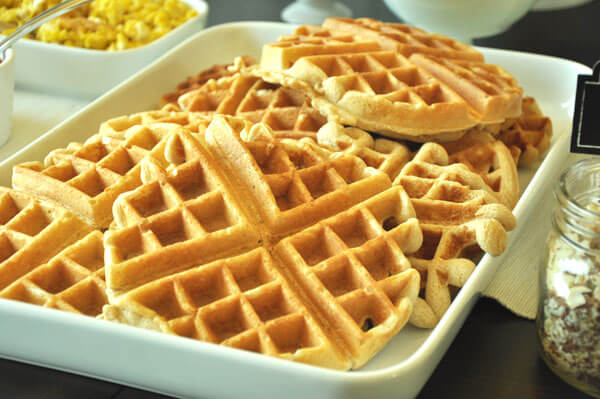 My mother-in-law gifted me this waffle maker for Christmas a few years ago, and it quickly became a favorite at our house. It cooks them perfectly, and my kids just love helping me make them! It made making the waffles for our waffle bar super easy! We just kept them under a towel to keep them warm.
Kodiak Cakes are the best! I tried them at Costco and I have never looked back! They are full of protein, taste amazing, and keep our bellies full! We have tried all three and love them all!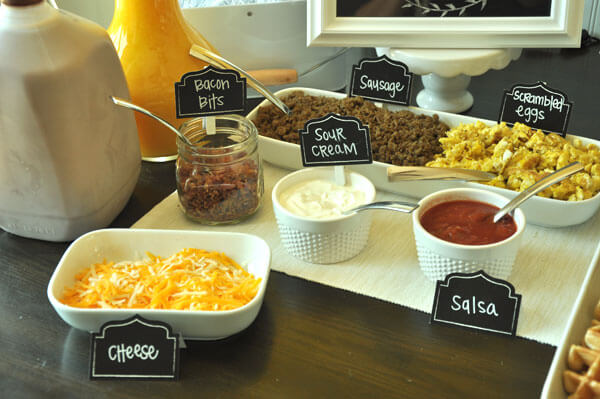 I found these chalk table name cards at Michael's craft store.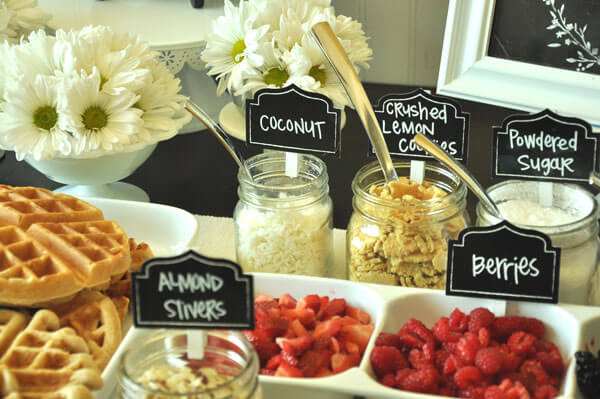 The name cards fold to stand nicely on the table, but I did want some of them to be able to attach to the sides of the dishes. I wrote all of the toppings all with a liquid chalk marker, and then once they were dried, I glue gunned them on to white clothes pins I found at Michael's as well.
THE CREATIONS
We had so many amazing toppings that most of us wanted to try different combinations – the waffles are such good sized that we were able to do just that.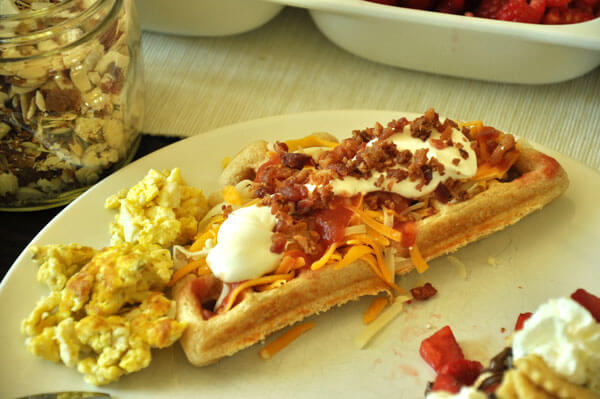 The savory side did not disappoint either!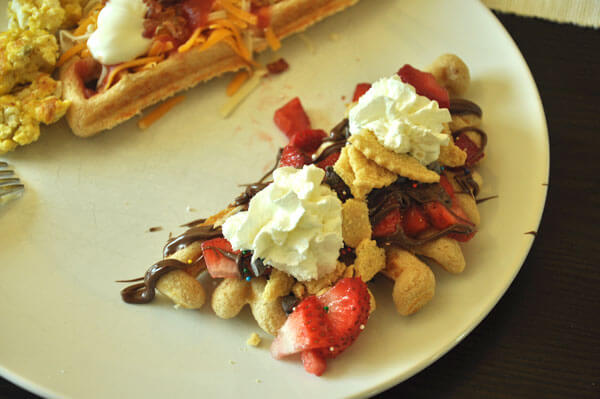 It was so fun to see all the variety of creations people made with the toppings we supplied!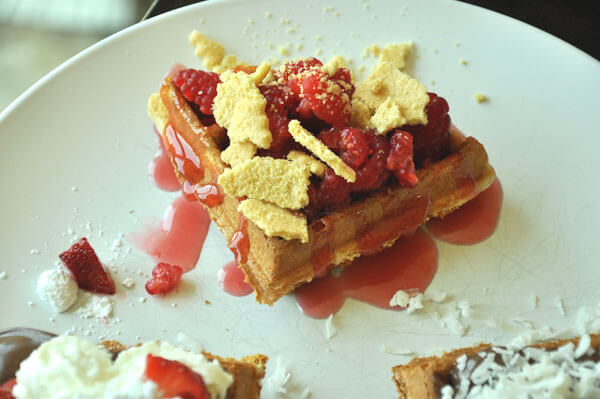 I think my most favorite was fresh raspberries with crunched up lemon tea cookies from Costco with Kodiak Cakes Syrup. I know its is available on Amazon, we always get ours at Costco. Marionberry is my most favorite, but honestly all of the syrups are AMAZING!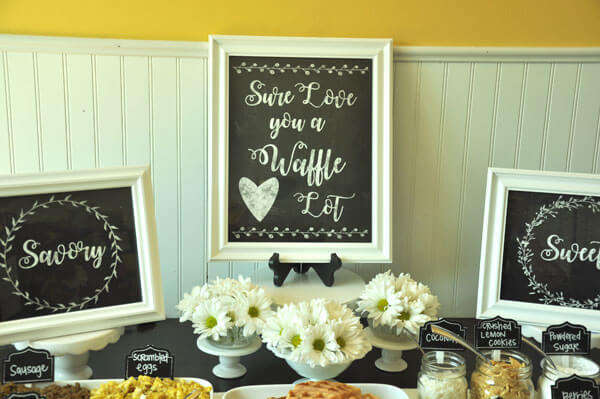 All three of the free printables can be found HERE. Just remember you do NOT need a Dropbox account, just click no thanks and you can access the printables.
The "Sure love you a waffle lot" is 11×14, and the "savory" and "sweet" are both 8×10. I just ordered them from Costco and picked them up.
What is YOUR favorite way to enjoy a waffle?
Remember to See the Happy!