An unfinished apron found
When I cook I'm not always really great at wearing an apron but I noticed that I always carry around a hand towel, keeping it over my shoulder, because I always need something to wipe my hands on. I thought maybe if I made an apron with a hand towel connected there would be a better chance of me wearing an apron. I need that protection for my clothes.
Thinking of this idea, I remember going through an old box of my grandma's unfinished projects my mom had gotten when Mormor (Danish for grandma) passed away. 
She had some amazing embroidery skills that I didn't know about. Check these out.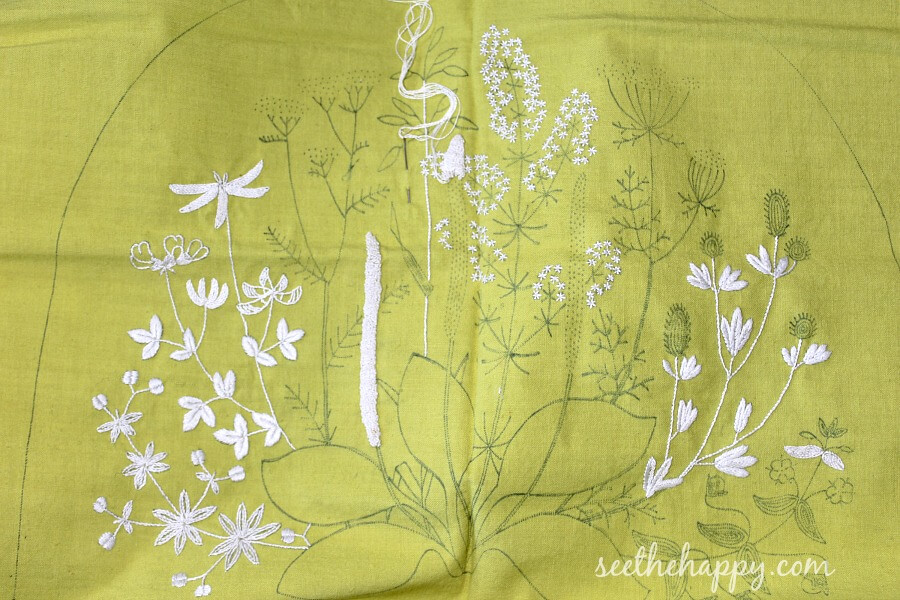 I did some research and I believe that this is called drawn work.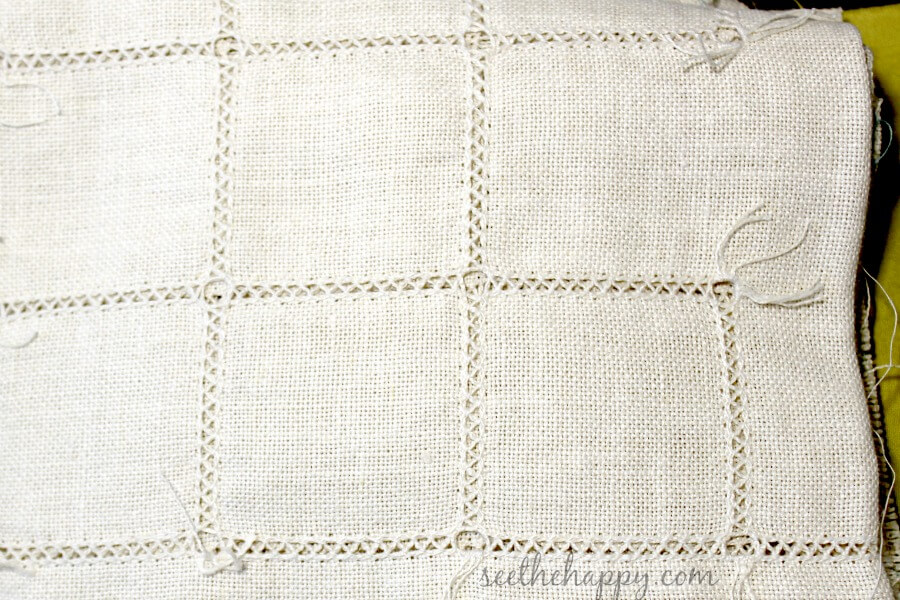 I SO wish she was still here, I would beg her to teach me these stitches. It would be more fun learning it from her than trying to learn it from YouTube, LOL. Maybe one day I'll learn so I can finish this table cloth she was making.
While going through the box I found an apron that Mormor had started but never finished.  This is the perfect opportunity to finish it. I love wearing things from my Mormor, it helps me feel her close by. I'll share with you how to make this super easy apron without a pattern.
What You Need:
1/2 yard of at least 45″ wide fabric
About 7ft Grossgrain ribbon
1/2 yard Ric-Rac or other trim (optional)
1 hand towel of your choice (optional)
And of course sewing machine, thread, scissors and measuring tape.
Apron Assembly
First, open your 1/2 yard piece of fabric and fold it length wise, see first image.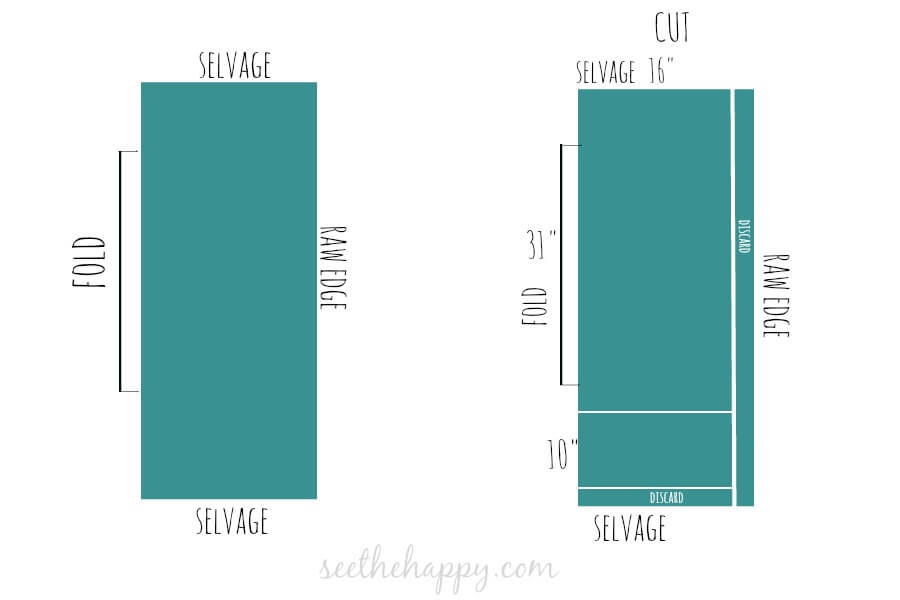 Then, keeping it folded, cut one piece 31″x 16″ and another piece (again keeping it folded) 10″x 16″ for the pocket,  see second picture.
Once you have your folded cuts, measure and mark 10″ from the top raw edge corner into the fold and from top raw edge corner down.  Draw a curved line from the top mark to the mark on the side like the one in the picture below, and cut that corner off.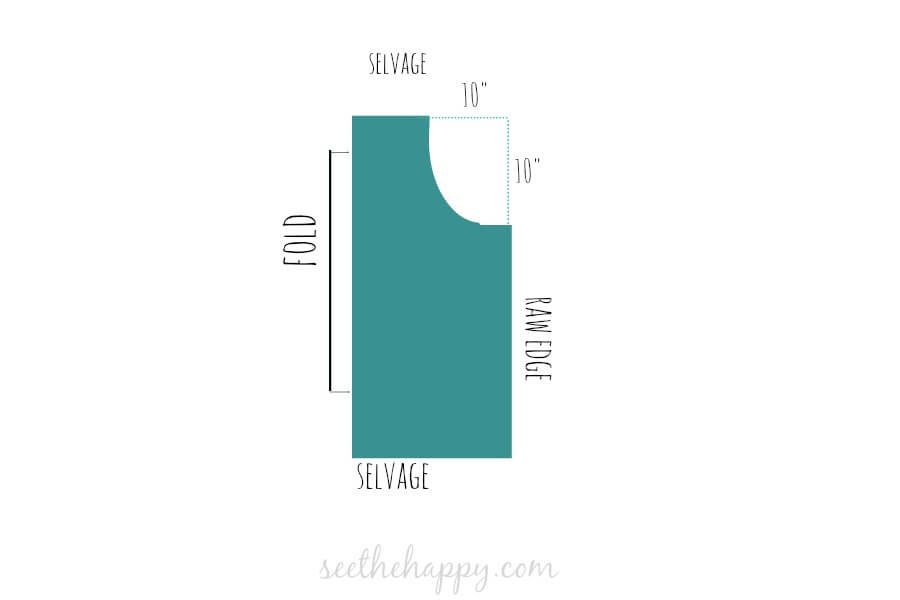 Now surge or zig zag all edges. Also open the folded 10″ x 16″ piece, making it 10″ x 32″and surge/zig zag the edges.
Fold top of pocket over 1″ and iron (it was really cool when I ironed mine, I could smell Mormor on the fabric, oh the memories it brought). Pin any trim on and sew, creating a hem. If not adding trim,  just fold over and sew making a finished edge.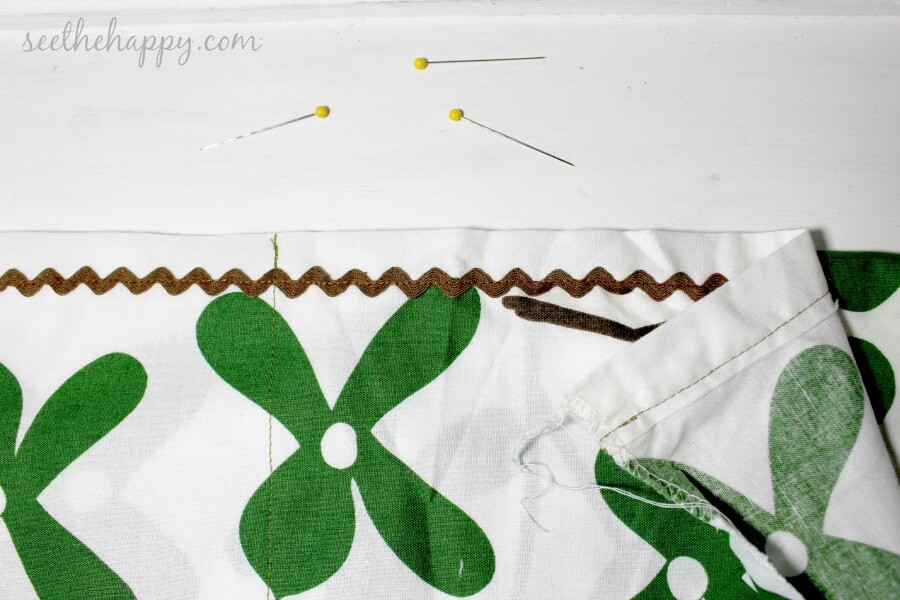 Fold the bottom edge of pocket about 1/2″ under and iron.  Then measure up from both sides of the bottom of the apron and attach the pocket strip sewing very close to the bottom fold of pocket.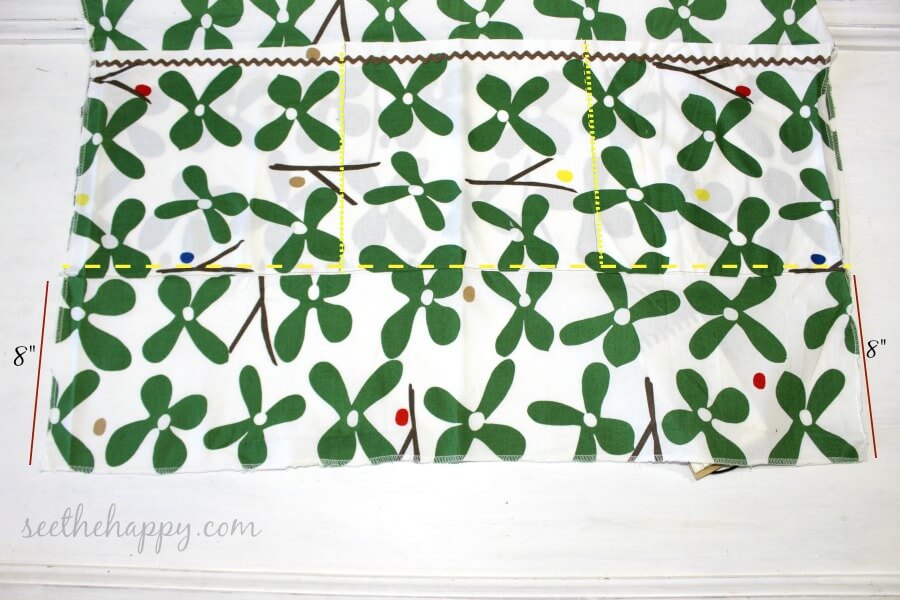 Finish up
Fold all edges of the apron under 1″ -with exception of the curved under arm, only fold that over about 1/4″- and sew giving all edges a finished look.
Create pockets by measureing in 10″ from both sides and sew a line from top to bottom on the 10″ mark. This creates 3 pockets. Shown in picture above.
Cut one piece of ribbon at 24″ for neck (you can decide if this is big/small enough for you) and 2 pieces of ribbon at 30″.  If you would like to have your ties come around to the front, you can cut them at 52″.
Attach the neck ribbon by folding the edge over twice and lay it down on a corner of the top of the apron.  Then attach the other to the other corner at the top of the apron, be sure it's not twisted.
Taking a 30″ piece, attach it in the same manner on the corner of the underarm curve at waistline in the same manner. Then do it again on the other side.
I wanted a dish clothe on mine so I added it to my left pocket by sewing a line in the opening of the fold, two lines close together.  Then so the pocket wouldn't sag, I sewed 2 vertical lines as close as I could to either side of the clothe.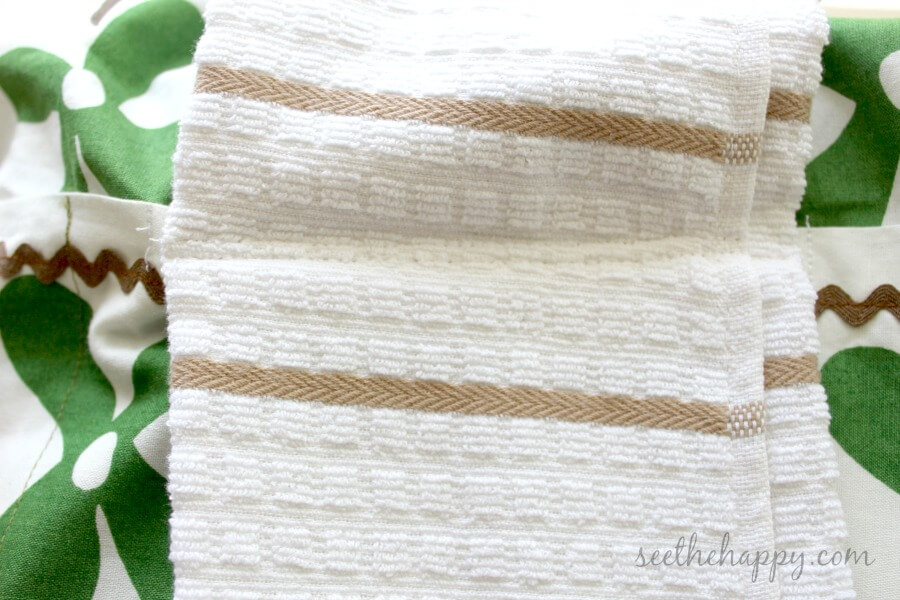 Aprons are good for all kinds of work
As I was making this apron, I wondered what purpose Mormor was making it for.  The pockets seem awfully deep. I wonder if she was going to use it for gardening.  She had a beautiful flower garden and loved having fresh flowers on the table when we came over for family parties.
I also thought how useful those pockets could be when I sew, I'm always carrying stuff around in my pockets to keep it close.
Another thought that came to mind is for cleaning the house.  I often fill my pockets with items belonging to other rooms so I don't have to make a million trips to another room every 5 min.  They could also be used for cleaning supplies or tools.
If you like to do some woodworking, it could be helpful to carry tools in as well.
What will you use your apron for?
I'll likely be cooking while wearing this one. But whatever the job done in this apron. I will feel my Mormor and Poppy close by and draw on their strength on hard days.  I'm grateful for the knowledge that I will see them again some day…And maybe Mormor will teach me those stitches.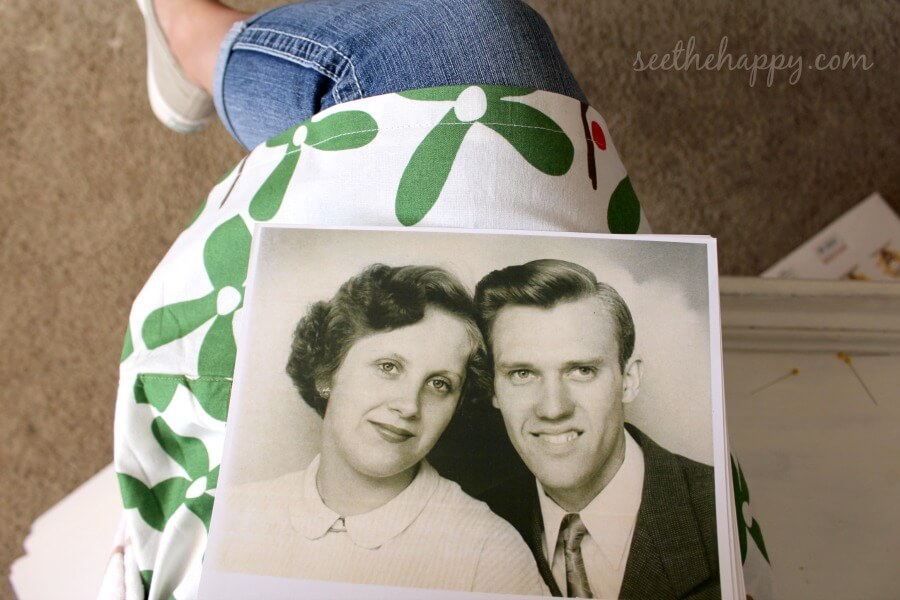 SEE THE HAPPY!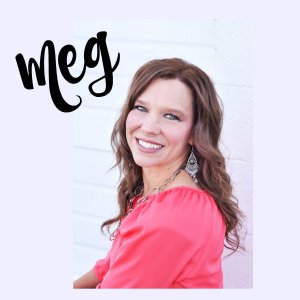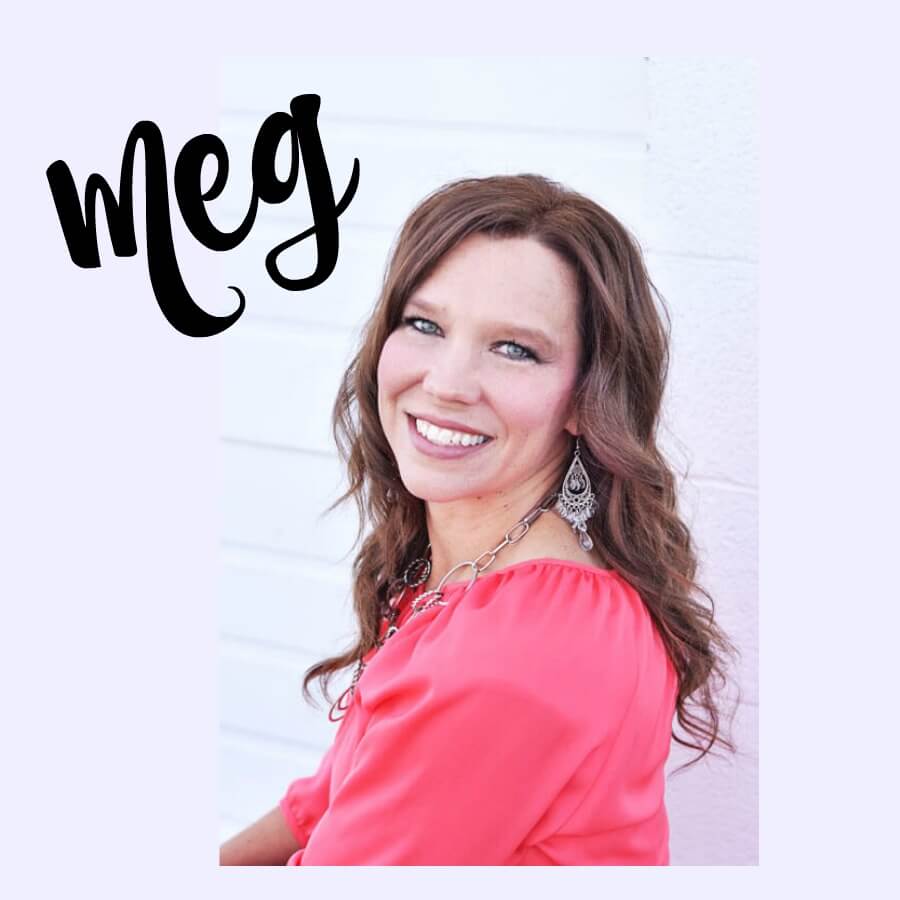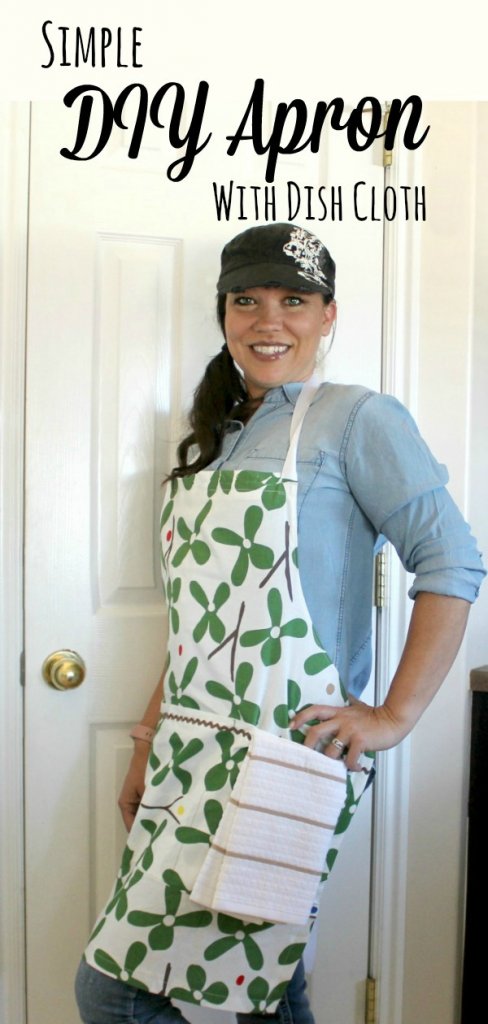 See more fun things to wear from these fun bloggers in the Inspire My Creativity link party.  And feel free to Link up with us, sharing your posts of Things to Wear. Then join us next month for Kids Activities and Crafts.